Bahamas LiveAboard Adventure CME
May 16TH - May 23rd, 2020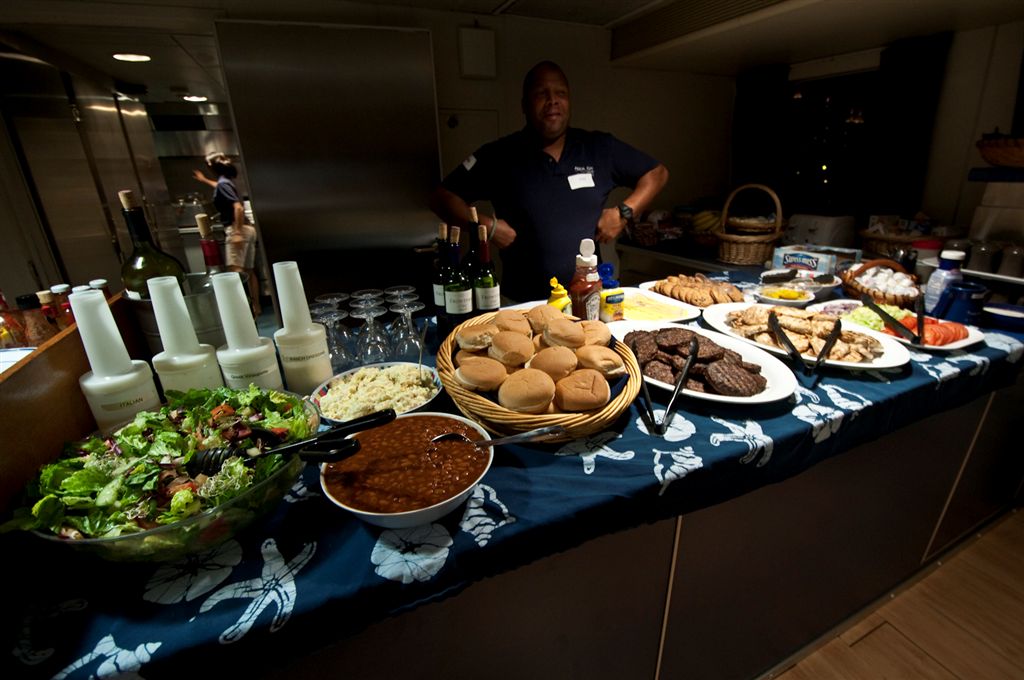 May 16th - May 23rd, 2020
Join our Bahamas LiveAboard Luxury CME course in May 2020 for an unforgettable experience.

This course is ideal for those interested in combining a dive/snorkel/fish vacation with adventure related CME or those looking to learn more about possible injuries and accidents encountered while traveling abroad and dive related injuries. Our courses are also great for those travel enthusiasts, group leaders, divers, EMT's, paramedics, nurses, NP's, PA's or doctors with a desire to learn medical treatment in austere environments. We will complete the core curriculum of this CME certification course while on our private chartered boat - AquaCat in the Bahamas. Leave the planning to us and enjoy a nearly all-inclusive, hassle free stay. We have arranged transportation from the airport to our boat, a 7 Night Stay on our private chartered boat, all meals, up to 20 dives, snorkeling, fishing, sun bathing, island exploration and of course CME. Meet like-minded individuals and friends to last a lifetime on this one-of-a-kind CME getaway. We promise you won't be disappointed.
ATTENDING THIS COURSE YOU WILL:
Learn the latest practical hands-on wilderness medical skills for patient assessment, stabilization and evacuation.

Practice your skills while diving/snorkeling or enjoying the beautiful waters of the Bahamas

Work with our expert faculty to develop your knowledge and awareness regarding austere & dive medicine

Obtain up to TBD hours of CME and Fellowship credits from the Wilderness Medicine Society towards your FAWM

Our program focuses on treatment of the most common injuries and illnesses encountered while traveling to remote locations
CERTIFICATION:
Approved for up to TBD AMA PRA Category 1 Credits and WMS FAWM Credits (FAWM credits will vary depending on which categories you need and if you already have received credits in the areas discussed at our conference)
The Ultimate Escape on your own private LiveAboard in the Bahamas

Dive / Snorkel / Sunbath / Fish non-stop for a week, from island to island of the Exumas and Eleuthera, and especially the Exuma Cays Land and Sea Parks - the MOST pristine area in all the Bahamas

Multiple dive sites including "The Blue Hole" (weather and visibility dependent)

All Meals Included as well as alcoholic drinks (Beer, Wine and a few specialty drinks)

All Tips Included in Cost

Enjoy excellent food, drinks and hospitality with a secluded and beautiful atmosphere

Earn CME in small group style

Build friendships to last a lifetime
This is the ultimate escape aboard your own private luxury liveaboard. Imagine sinking your toes into sugar sand, snorkeling or diving among the sharks and sting rays, or hiking the trails of pirates and bootleggers of years gone by. No crowds, no set itineraries, nothing to do but sit back, relax and choose from an incredible variety of activities including scuba diving, snorkeling, kayaking, fishing, sunbathing, and island exploring. Our launch the Sea Dog does up to 4 shore excursions daily.
The Aqua Cat offers top of the line high quality scuba rental gear for those who require it. Nitrox is available on your Bahamas dive vacation. Photographers will find the underwater life in the Exumas some of the most prolific and varied of the Caribbean. If you don't want to blow bubbles, that is okay too! You can explore the uninhabited islands and partake in daily eco-adventures. You'll have great stories of your own from above the waterline! You will have a great time exploring the 200 mostly uninhabited islands with their many beautiful beaches in the northern Exumas. The Aqua Cat has a 28′ launch, the Sea Dog, that can take you to isolated beaches where you can sunbathe, explore, kayak, snorkel or fish.
Let Aqua Cat be your floating resort while on your dive vacation, with captain and crew at your service. With bar, meals, scuba diving and water sports included in the price of your dive vacation, Aqua Cat is comparably priced to a Caribbean luxury cruise or resort dive vacation, only the service is much more personal and it includes all activities and excursions. The Aqua Cat has 10 large outside cabins each with 2 large windows, en-suite baths and oversized king, queen or twin beds.
ITINERARY: (Speakers and times may change slightly based on availability and weather)
(Breakfast - B, Lunch-L, Dinner-D shown if included)
Day 1 (May 16th) - Depart Home City & Fly into Nassau, Bahama (D)

Board Boat no later than 6pm (Introduction to Course)

Day 2 (May 17th) - Dive / Snorkel / Fish / Explore (B)(L)(D)

Day 3 (May 18th) - Dive / Snorkel / Fish / Explore (B)(L)(D)

Day 4 May 19th) - Dive / Snorkel / Fish / Explore (B)(L)(D)

Day 5 (May 20th) - Dive / Snorkel / Fish / Explore (B)(L)(D)

Day 6 (May 21st) - Dive / Snorkel / Fish / Explore (B)(L)(D)

Day 7 (May 22nd) - Dive / Snorkel / Fish / Explore (B)(L)(D)

Evening Lectures / Captains Party

Day 8 (May 23rd) - Final Day (B)
The travel logistics and leadership will be provided by Wild Med Adventures.

The Wild Med Adventures Team are all well traveled and experienced and promise to make your CME experience both educational and informative, but please note that we are only responsible for the educational aspect of this trip. We are not Guides and do not provide gear and/or other safety equipment for the adventure portion of this course. All risks of travel, diving, snorkeling, transportation to and from hotels, airports and resorts is at the risk of the client and may not hold Wild Med Adventures responsible in case of injury or emergency. (See Waiver) For more information regarding our instructor's background - please see BIO's for instructor information.

Instructors: Ben Mattingly, MD, FAWM (Instructors may change unexpectedly depending on availability)
PRE-REQUISITES:
Scuba Certification Recommended; however, you can complete the open water portion of your certification while onboard.

EMT, Paramedic, Nurse, PA, NP, RRT, PhD or Physician to obtain CME accreditation. (Please Check with your governing body to ensure credits are acceptable)

If no CME needed, Non-Medicals are welcome so please feel free to attend and enjoy the lectures at no additional cost

A keen interest in wilderness & tropical medicine

A good level of physical fitness

Prepare and bring proper clothing for different activities
TRIP INSURANCE:
Delegates should have personal insurance to cover any in-country medical examinations or injuries, rescue/evacuation insurance as well as some form of trip insurance to cover missed flights, weather delays, illness, cancellations or other potential trip delays. We recommend Global Rescue for our Remote Medical Trips.

Please seek a Travel Clinic or discuss your travel plans with your physician for any necessary vaccinations or pre-trip precautions you may need.
TARGET AUDIENCE:
Intended as continuing education for physicians, PA's, NP's, nurses, and medics who aspire to work or teach as a field instructor/provider in remote environments or who may work in remote clinics and deal with the injuries sustained in tropical environments.

Graduates from other wilderness medicine programs (e.g. FAWM, MFAWM) who want to gain experience and skills in Remote Medicine.

Individuals pursuing a Fellow of Wilderness Medicine degree (FAWM™)
COST SUMMARY
Deposit: $2000
Course + CME: $4750 (shared accommodations)
Spouse/Partner Discount: **If you sign-up a non-medical spouse, partner or friend with your enrollment their cost is discounted.
Spouse / Partner / Friend (Non-CME): Shared Room $3999

We will have NO MORE than 2 people per room unless . . . you sign-up as Group of 3 or 4

Group of 3? There are a few rooms capable of sleeping a third person. Two twin beds and one pull down. We can reduce cost to $4200 per person (Medical or Non-Medical). Must sign-up together and indicate roommates at check-out. This option may expire if we sell out our other rooms. Not to be combined with any other discounts or coupons. (MUST PAY IN FULL FOR THIS OPTION AT CHECKOUT)

Group of 4? There are two rooms capable of sleeping 4 people. If you don't mind sharing and you have a group of 4, we can reduce the cost to $3999 each (Medical or Non-Medical). You must all sign up together and indicate who is in your room at check-out. This option may expire if we sell out our other rooms. This cannot be used with any other discounts or coupons. (MUST PAY IN FULL FOR THIS OPTION AT CHECKOUT)
***3% Online Credit Card Fee included if you pay online (INCLUDED AT CHECKOUT)
Included Package: 7 Nights lodging (shared accommodations) on private, luxury AquaCat Dive Boat, Airport Pick-up and Transfer to and from our boat, All Meals & Drinks, ALL TIPS, Diving/Snorkeling/Fishing/Beach Excursions, TBD credits towards your FAWM & TBD hours of Category 1 CME, and a free Wild Med Adventures T-Shirt, Tank-Top or Hat.
Excluded: International & Domestic Flights not included, travel insurance, rescue insurance, personal gear including diving gear (available for rent). Snorkel gear, wet suit, specialty drinks not included. Transportation outside of group transportation.
SEE CHECKLIST AND RENTAL GEAR COST
Maximum of 25
or send Check or Money order to save 3%:
Wild Med Adventures, LLC
138 Kennedy Road
Belchertown, MA 01007
***Please note: Full payment due within 90 days of course or a $500 fee will be added to your final cost or we have right to cancel your reservation***
Cancellation Policy: Your deposit for the travel portion of the course is nonrefundable. The entire balance of your trip fee will be due 90 days prior to departure. We recommend trip insurance for any unexpected illness and/or schedule changes or conflicts. If you have not paid in full prior to 90 days before the start of the course a late fee of $500 will be applied to your final cost or we have the right to cancel your trip. There will be no refund after 90 days prior to course. If you cancel before 90 days of beginning of trip you will be refunded 50% of trip cost.

If trip is cancelled due to insufficient numbers, we will reimburse all payments including deposit
MAIN EDUCATIONAL OBJECTIVES:
The goal of the Bahamas Dive CME Conference is to provide participants with a unique environment to experience essential medically-related topics and learn skills while collaborating with expert faculty through educational activities including lectures and Dive / Water Adventure Excursions.

Development of this CME curriculum is formed by the following key objectives:

Provide educational opportunities based on core curriculum of the Academy of Wilderness Medicine.

Provide education of value to providers who care for the medical needs and also those involved with coordination of tropical and dive related activities, including medical providers who must educate and instruct travel safety with their patients.

Provide education of interest to wilderness and austere-activity enthusiasts.

After attending this conference, the participants will be able to:

Establish a set of treatment priorities for care of the sick or injured in remote settings.

Prevent, diagnose, and manage illnesses and injuries in austere environments.

Demonstrate increased knowledge and skills in recognizing and treating the most common illnesses and injuries encountered in remote environments, including dive medicine.

Understand objective risk-assessment in wilderness environments from the perspective of the medical professional acting as a trip leader.

Understand the pathophysiology and management of acute emergencies related to remote environments and dive-related injuries.
FACULTY DISCLOSURE / CME
It is the policy of the Wild Med Adventures, LLC to ensure balance, independence, objectivity and scientific rigor. All faculty members are required to disclose any real or apparent conflict of interest related to the content of their presentations.

Accordingly, the Wilderness Medical Society has determined there are no conflicts to report associated with this conference.

ACCME Statement: This activity has been planned and implemented in accordance with the Essential Areas and policies of the Accreditation Council for Continuing Medical Education through the joint providership of the Wilderness Medical Society and Wild Med Adventures, LLC. The Wilderness Medical Society is accredited by the ACCME to provide continuing medical education for physicians.

The Wilderness Medical Society designates this educational activity for a maximum of 15.5 AMA PRA Category 1 Credits TM. Each physician should only claim credit commensurate with the extent of their participation in the activity.
PLEASE INQUIRE WITH ANY ADDITIONAL QUESTIONS
We hope to meet you in April and share the ultimate CME experience !